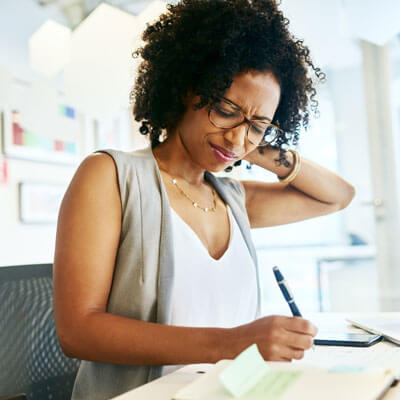 Whether you spend hours a day hunched over your computer or sleep on a too-soft pillow, neck pain can result. Neck pain can range from minimal and easily ignored, to unbearable and debilitating. When combined with other symptoms, neck pain can also indicate immediate medical attention is required.
What You May Experience
Common symptoms of neck pain include
Stiff neck with reduced range of motion
Concentrated sharp or stabbing pain
General soreness
Radiating pain, that can eventually extend from the neck to shoulders, arms and fingers
Safe & Natural Chiropractic Care
When it comes to unlocking a stubborn, painful neck, it's a good idea to seek the care of a master locksmith (a chiropractor) who provides precise care backed by considerable research. After all, you wouldn't use chemicals to burn down your front door if you had the correct key to open it, so why potentially harm your body with chemicals?
Perhaps best of all, routine
chiropractic care
provides patients with neck pain a safe, non-invasive, non-addictive alternative to prescription medications or OTC medication.
How Does Chiropractic Help?
Chiropractic adjustments decrease joint restrictions or misalignments in the spine and other joints in the body to reduce inflammation and improve the function of both the affected joint and nervous system. When you have greater joint mobility, improved nervous system function and spinal health, your body can better manage your neck discomfort.
A recent study funded by the National Institutes of Health (NIH) and published in the Annals of Internal Medicine substantiated that after 12 weeks, patients who used a chiropractor and exercise were more than twice as likely to be pain-free compared to those who relied on medicine.
You can consider your Midtown NYC chiropractor, Dr. Shire a master locksmith who can unlock your persistent pain so you can get back to what you love in life. Contact us today to book an appointment.
CONTACT US »