Mobile Chiropractic in NYC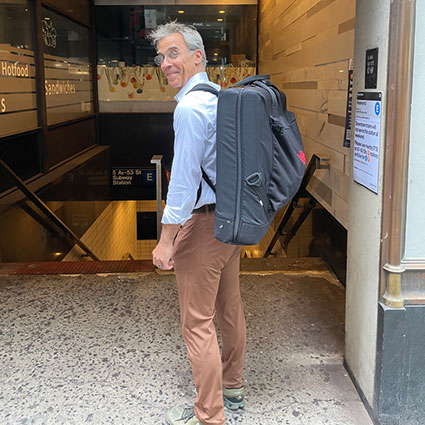 Bringing Pain Relief and Wellness to You
Visiting or passing through New York City?
It's not uncommon for planes, trains and automobile rides to cause muscle tension and injury flare-ups. What do you do if that happens when you're away from home?
Fortunately, Dr. Robert Shire is pleased to offer on-site chiropractic care in New York City.
What is On-Site Chiropractic Care?
It's simple! Dr. Shire will travel to your hotel, office or home, and deliver the outstanding quality of care and service he is known for in his midtown office, all in the comfort of where you are. With on-site chiropractic care, there's no need to battle the elements, hail a cab in the busy city or make your way to our office.
Simply call Dr. Shire on his direct line 914-391-7119 and he will come to you.
Care When and Where You Need It Most
With more than 20 years of experience treating a variety of conditions affecting many New Yorkers, Dr. Shire will get you back on your feet and out of pain to enjoy all of that this great city has to offer.
Dr. Shire has great success treating many of these common conditions:
Lower back pain
Neck Pain
Sciatica
Leg Pain
Shoulder/ Arm Pain
TMJ ( (Temporomandibular Joint Pain)
Headaches
Migraines
Plantar Fasciitis
Vertigo
Contact Dr. Shire for an On-Site Visit
Ready for Dr. Shire to come to you? Give him a call on his direct line at (914) 391-7119 to schedule your on-site care. Your body will thank you, and you'll be able to spend more time enjoying NYC!

Mobile Chiropractor NYC | (914) 391-7119